Our Story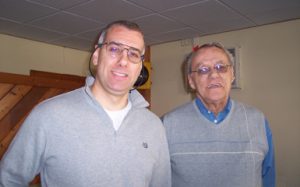 J.N.Fogg & Son began with E.L. Fogg, a contractor and paint store owner in Portsmouth, New Hampshire, in 1918 (See Picture-"Fogg's Paint store").  That Paint store is also where John Fogg Sr. was born and raised (So painting really is in his blood!).
After his Honorable Discharge from his service during the Korean War in the U.S. Air force, John Sr. moved to Ct. in 1958 (where he met his wife whom he married in1960), to continue with his expertise in the painting industry. John Jr. was also apprenticed in J.N.Fogg & Son and added to his repertoire an extensive art background extending today's J.N.Fogg & Son, LLC  services to include many decorative finishes and textures.
The Romance Craft-Painting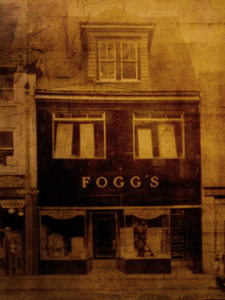 There is something about working with paint that gets into the blood.  I've always felt it.  Even the simple act of taking the lid from a new can is an adventure.  I like to see the swirling rings of color as the stirring paddle is whisked about- the different hues blending into each other like soft notes on a miniature color organ that only the eyes can hear.
Yes, there's a lot I like about painting. It's a thrill to bring out the beauty of new woods with stain or to rub off paste filler revealing and enhancing the beauty of the grain. There is pleasure in matching putty to the wood shade and then pressing into the tiny holes where nails are sunk –like a doctor healing a cruel wound.  Shellac, from far off India, is a romantic friend-romantic because thousands of little bugs lay down their lives to give one a few brushfuls of this magic fluid.  Shellac is a good friend, too.  It is so easy to use and dries almost as I stroke it.  Little squares of sandpaper under my fingers seem to make music like a pianist caressing the keys.  What an art to pour on fat brushfuls of that liquid amber glass-varnish- to see a dull surface become a living thing that reflects an image like a jeweled mirror.  Of such things do painters only, among craftsmen, know the tingling thrill.
What wonderful things we have to work with- fascinating colors-chrome yellows-butterfly wings-dandelions-daffodils in essence.  All the greens of springtime-the leaves of roses and the new life of growing things.  The blue of a summer sky and of midnight.  The warm red of fire and the black embers of yesterday.  Yes, the world of color is ours to play with and -work with- like so many fairies in bright uniforms, waiting to dance as we command.
Our grand ally linseed oil- how pleasant to look at-the friendly gurgle as we pour it seems to say-"Master, use me as you will, I will serve you well.  Use me with paint.  I'll add beauty and give long life to your coats of beauty and protection."
It's great to be a painter.  I am not chained to machine or desk.  There is no time clock to punch.  I get into the palaces of the rich and the humble homes of the poor.  I see the show and learn from the front of the stage and also from the seamy side of the curtain.  Churches, schools, banks, office buildings, factories-all are open books to me.  I meet all the people-men and women- they are all actors who play a part in the drama of my work.
I like to chat at lunchtime with my fellow craftsmen-sitting on the floor, back to the wall.  It's an education to hear their adventure stories-where they have worked, the jobs they have done-to hear them reminisce and listen to their gripes.  Many tall tales are told from the time sandwiches and cakes are taken from their newspaper wrappings.These are my people- my fellow painters-the fellows whose life is devoted to beautifying and preserving things-and having a lot of fun doing it. It's a great craft –painting.  It gets in ones blood.  No wonder we, the lucky ones, are proud of our calling-our art-the romance craft-painting.
from the February 1947 issue of the Painter and Decorator
---

Connecticut Homes is the one of the top sites for Connecticut Homes For Sale, including Hartford CT Homes For Sale, condos, multi families, and townhouses for sale. Connecticut Homes also services Long Island NY Real Estate and New Hampshire Homes For Sale.